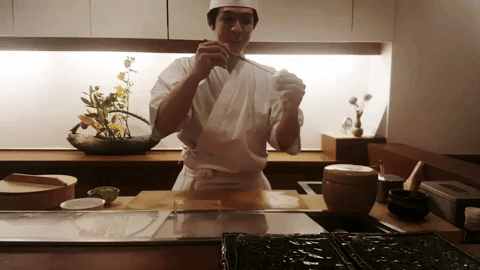 Wow it's been more than a week since my last post! I wish I could say that I've been too busy with a nightlife, but what really happened is that I just want to veg out when I get home nowadays. It's been a tiring few months and it probably doesn't help that I'm thinking of moving this space onto a new direction for next year. So many things, so little time.
Anyway, I'm coming back to writing about my Tokyo trip from March. Ottie and I visited Shinjuku for a shopping errand that didn't pan out, as we'd arrived too late in the evening. Unfazed, we searched Google Maps for restaurants and headed for the highest-rated one. Turned out to be this place named Makoto Sushi, a little hole-in-the-wall that was one of a handful in a nondescript alley somewhere in between office skyscrapers.
Here it is for posterity – Mcdonald's is the landmark to note from the main street.
The restaurant was empty when we entered. "Do you have a reservation?" we were asked by the chef manning the counter. We didn't. The chef – whom we later knew was named Kyohei – then asked if we were okay with Omakase (chef's choice) for Â¥6480 (~ SGD 82) per person. We were. However it didn't matter that we didn't have a reservation, as we learnt that only a tourist couple had made reservations for later in the night. In fact, we had the restaurant to ourselves for about our first hour there!
Behold our 20+ course meal:
1) Look, a real Wasabi stem! It was so cool seeing the actual thing up close.
We even got a go at grinding wasabi on the sharkskin grater (Oroshi)! It's the traditional way of grating wasabi, according to this educational article.
2) Left: Nanohana leaves and firefly squid.
3) Right: Wasabi leaves.
4) Left: Red snapper sashimi and striped horse mackerel.
5) Right: Horse mackerel sushi with ginger and soy sauce already in it.
This place completely changed my view on mackerel. I never knew just how soft and delicious it could be! Â I daresay it tasted even better than fatty tuna. What a life-changer.
6) Left: Red snapper (Alfonsino) sushi.
7) Right: Seaweed flounder sushi with glazed with sake on top of Konbu, topped with salt.
Chef Kyohei even specially brought out a Konbu seaweed to show us what it was!
8) Platter of a) ornament, b) steamed abalone, c) extremely juicy tomato, d) welsh(?) snail in a shell, and 3) cold octopus topped with grated yuzu.
Chef Kyohei showing us how to twist the snail out of its shell. By the way he was so personal and made us feel right at home. There was another, more senior chef who mostly kept to the kitchen, and at times he'd chirp up to help chef Kyohei out when he didn't understand us.
9) Chawanmushi.
It was at this halfway point when two more customers arrived.
10) Vinegared mackeral. I never want this supply of mackeral to end.
11) Ginger. Apparently chefs can more or less accurately tell if the parts they cut off from the ginger root are sweet or spicy. I got the spicy bits white Ottie got the sweet, and I was so confused when he showed no signs of tearing up, since we're pretty much on par when it comes to spice tolerance. I got cut some sweet ginger after we discovered the discrepancy! The room was split into half regarding their preference for sweet/spice ginger, so one of the new customers got my spicy ginger.
12) Shrimp tempura and shiso leaf tempura.
13) Squid with calamansi and rock salt from Peru.
14) Salmon sushi was next, and as Ottie and I commented on how fast the sequence of steps were needed to mould the final piece in sushi, we totally did not expect that he'd let us have a go at it ourselves.
We enjoyed ourselves to bits as a result. Never expected to learn so much at dinner!
https://youtu.be/p1pcJi7HhI8&w=800&rel=0&cc_load_policy=1
15) Bluefin tuna sushi and medium-fatty tuna sushi (chutoro).
16) Handroll (temaki) with mixed fatty grades of tuna, including ootoro.
The chef even indulged me in breaking down how he made my Temaki!

17) Left: Sea urchin (uni) gunkan.
18) Right: Salmon roe (ikura) gunkan. The topic of our favourite sushi came up – mine is ikura while Ottie's is eel (unagi) – and we were pleasantly surprised when they specially came up with our favourites!
19) Miso soup.
20) Sea eel (anago), which was more expensive than Ottie's favourite unagi because they didn't have any that day. I believe Ottie is now an Anago convert.
21) A cup of concentrated green tea.
22) A sweet yoghurt dessert topped with a strawberry.
Cheers!
Ottie and I got ourselves some sake to go along with our dinner. This serving of Bakuren sake was our second selection of the night (our first was Zakura sake). We even got to choose from a tray of different sake cups for each type of sake that we ordered.
Two hours after we first stepped into Makoto Sushi, we finally ended our dinner among a room almost filled with customers (mostly tourists). Chef Kyohei literally came out from behind the counter to settle our bill and stood outside the restaurant to bow goodbye to us! We felt so bad about the other customers waiting for their food that we upped our pace to disappear round the corner, because he'd never go back in otherwise. We were so honoured.
10/10 definitely coming back here again.