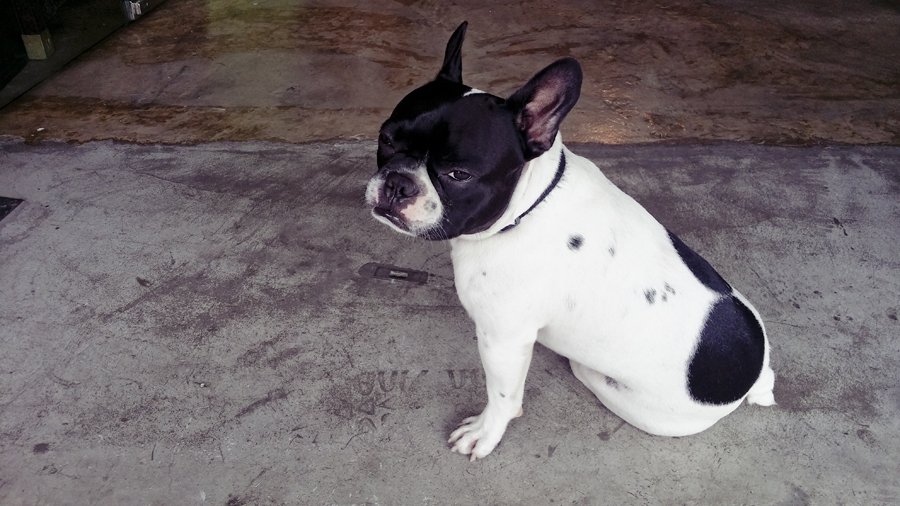 Ade and I ventured into the hipsterdom also known as Tiong Bahru one day after meeting Puey for lunch. Since we were in the area, I had to introduce Ade to Plain Vanilla Bakery, where I got myself a hot cup of Earl Grey to accompany a yummy Earl Grey Lavender cupcake. I was slightly disappointed that the Earl Grey flavour in my cupcake had less presence than the one I tried before, but it was still pretty decent:
The decor of the cosy little bakery is also a pretty place to take photos at, something I didn't really get a chance to do the previous time. This time however, Ade was here to save the day- or rather, my OOTDs:
Detail of my earrings and bitchin' dog print socks (pun very much intended).
Ade's and my feet against the pretty tiles at the shophouse next door.
Selfie! I was very self-conscious over the exaggerated pustule I sported on my chin- the result of my adverse reaction to an item at the K-palette workshop I had attended. It had been a while since I formed a mini volcano on my face.
Anyway, we chanced upon this incredibly adorable Boston Terrier pup, and couldn't resist making the acquaintance of the boisterous American Gentleman: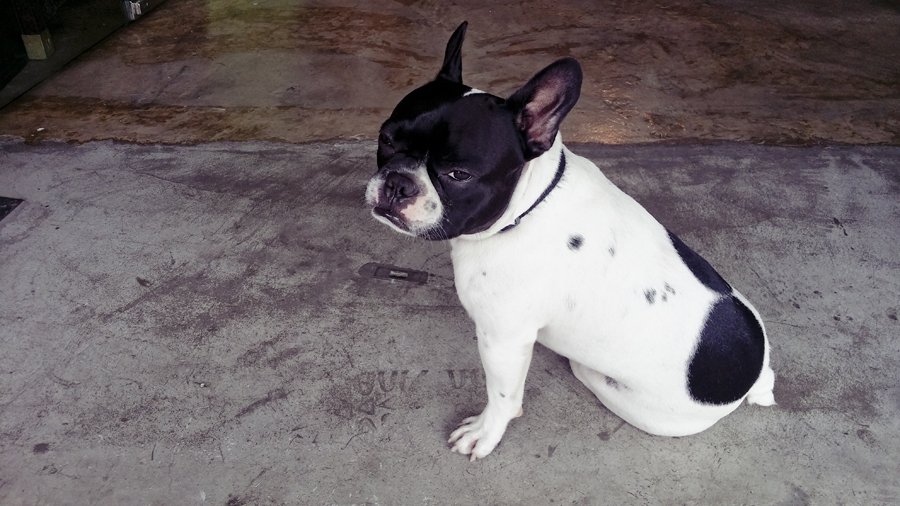 Caught him at a derp time, but he was still so cute!
Turned out he was very interested in me as a potential mate, which amused Ade to no end as she went trigger happy.
Still very much a cutie pie though. He was also surprisingly obedient! Tired of his attempts to mount my arm, I commanded him to sit and he did despite the haze of what must be an overpowering need to spread his seed. Soooo cuteeee~~♡
Tried to capture the scratches on my arms from Junior's mounting attempts.
We decided to head to town for dinner, but were drawn to a constant high-pitched squeaking from one of the pots resting at an alley along the way. We thought that this particularly noisy rodent was a weird-looking rat, until a few days later when I showed Pa this photo and he identified it as a Shrew. Did you know that very much like bats, they navigate through echolocation, which is the reason for the incessant noises that they emit? Now you do. Also, I find it pretty telling of the generation gap in childhood experiences when my dad could identify such animals on the spot while Ade and I have had the 'luxury' of spending 28 years of our lives in blissful ignorance of the wilderness.
We also found an unclaimed $50 note on the street once we were in town. It was crazy!! We've never picked up so much money before. Since we couldn't identify the owner of the $50, we decided to give our thanks to the unfortunate anon who would shortly be paying for our dinner.
The money was well-spent over dim sum at Tim Ho Wan.
OUTFIT
Dress from Forever 21
Dog socks from Taobao
Hat from Taobao
Platform shoes from H&M
Photos of me taken by Ade.