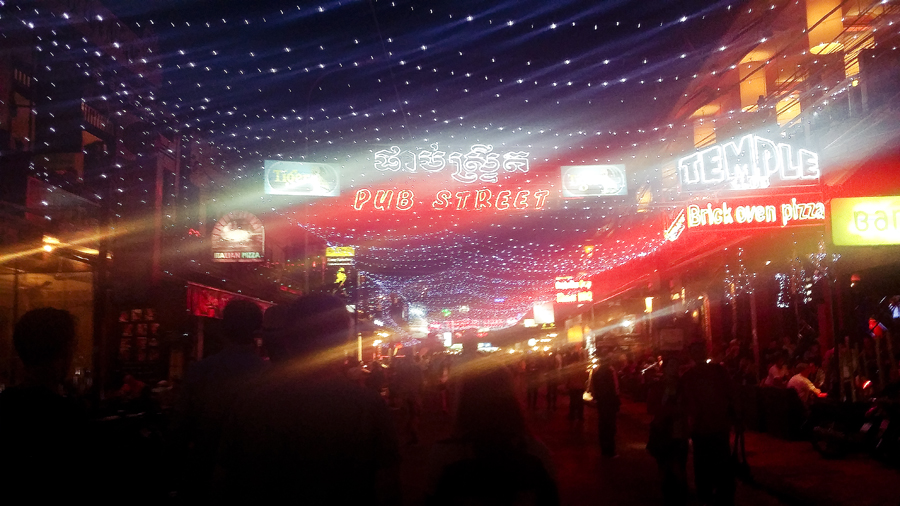 Siem Reap: Pub Street & A Cooking Class
Pub Street
Pub street at night is one of the more fascinating places to be in. Sure, the place is positively crawling with tourists and eager tuk-tuk drivers hoping to ply their services, but the lights, noise, and general feel-good vibe made us go back every night. Well actually the vast number of food options in Pub Street was why we went back every night, but each time I hoped to be there when people would be dancing in the street to the deafening beat of music blasting from one crowded pub or another. I'm glad that Ottie and I were lucky to have caught a massive 'dance gathering' our last night there! It definitely was an experience.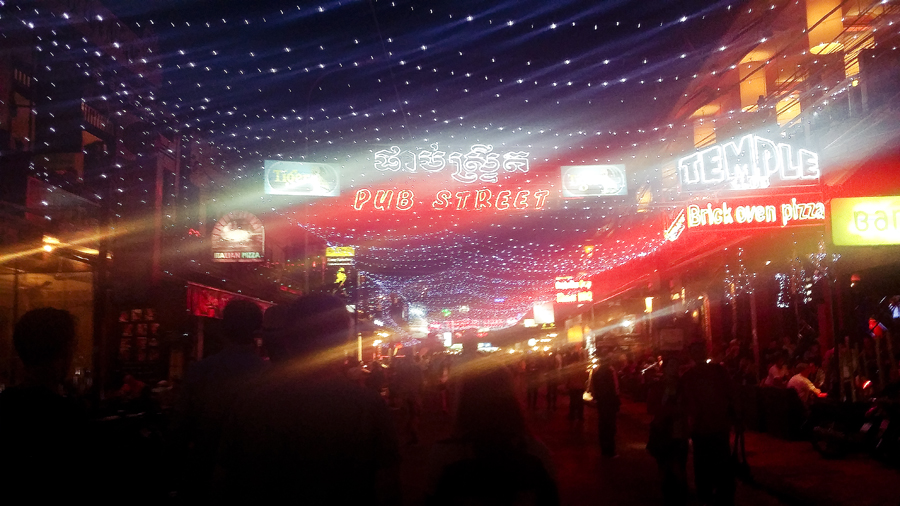 The Adventures of Tintin in Cambodia. XD
A 'Keep Calm and Call Batman' tuk-tuk on Pub Street.
Here's a tuk-tuk driver relaxing on a hammock he installed in his vehicle. The people here really know how to take it easy!
One of the popular bars, Angkor What? in the daytime.
We also had the dubious honour of having had the worst food, and the best, in Pub Street. The worst was at World Lounge Restaurant, where Dar found that her Salmon Sandwich consisted of a few measly pieces of still-frozen salmon. There were even ice crystals on the surface… perhaps you could say that she had a Salmonella Sandwich. :P
Ant and I tried their featured Crocodile Burger & Salade, in which the 'salade' turned out to be the dressing in our burger, instead of the side dish that we expected. It was an eye-opener.
We also had the best Mexican fare, after Dar and Chris went there for their second lunch and raved about it after. I was slightly skeptical, because Mexican doesn't exactly top my list of favourite foods. But proven wrong yet again, I was. Unfortunately, contrary to my picture and video-taking ways, I somehow failed to catch the name of the place we dined at. I can only surmise from studying the video stills that this enigma lies to the right of Koh Kong Sushi, and is opposite a local souvenir shop. Behold, pretty damn good empanadas and the best delicately crispy nachos I've ever had the pleasure of ingesting:

In which Ottie is weird for using cutlery on freaking empanadas.
Le Tigre de Papier
Le Tigre de Papier lies on Pub Street – not only does it serve delicious food, it also conducts a three hour cooking class for chefs-in-the-making (with a tour of the market beforehand). I highly recommend eating something before attending though, because I wound up being famished while in class, and subsequently so fatigued after standing for hours that I lost my appetite after. On the up side, I tended to finish my prep work earlier than the rest of my team, and so would go around taking selfies throughout the class:
Fingerroot, Garlic, Shallot, Turmeric, and I'm slicing Lemongrass. These are part of the ingredients to make my Fish Amok dish.
After this, they were placed in a wooden mortar and pound into paste. The last time I used a mortar (albeit made of stone) was when I was barely into my teens. o_O
Another selfie, in which my hidden double eyelids make an appearance.
Finally, we sat down for our feast downstairs in the restaurant! Each of us had made a side dish and a main dish, with each dish a portion large enough for two people, so we effectively had a table fit for ten diners.
Photo taken by Ant, via Ottie's phone.
Our tutor had also bought Madagascar Plums during our tour of the market, which confused me – they looked like mutated mangosteens when sliced, and I couldn't for the life of me figure out what it was. Also, rambutans in the middle.
My certificate! Our group noticed the misspelling in the header and it became a running joke.