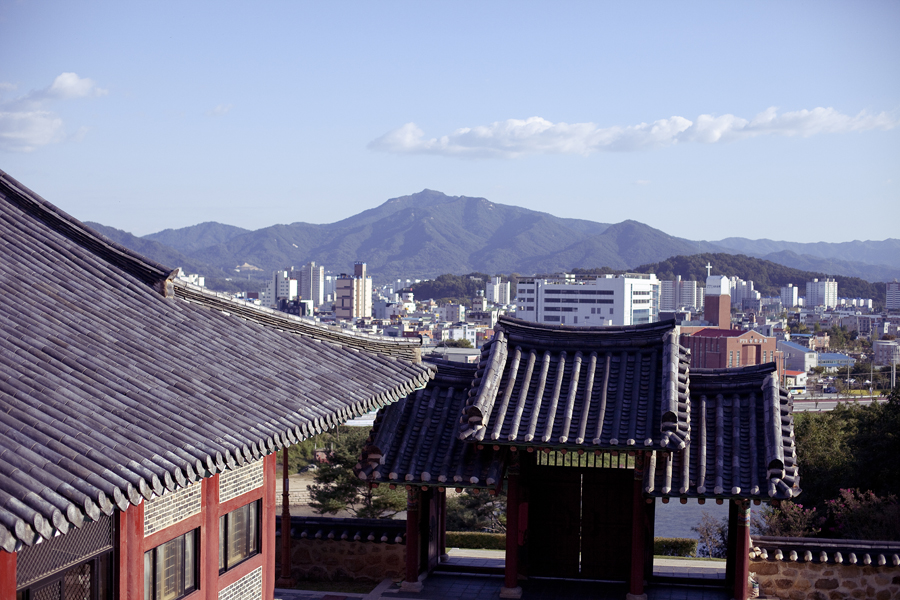 Sangju: Sights & Battlefields
One of the places that I really wanted to visit when I was in Sangju was the site of the Bukcheon Battleground in the 1592 Imjin War. I had spied it atop a hill on the way to school the first week I was there; truth be told, it was worrying when YY-sem told me what it was– the idea of ghosts terrify me to death, and a battlefield did seem like fertile grounds for such phantoms. Well the only apparitions that existed were in my overactive imagination (as usual), though I did have a shock when I saw mannequins depicting a scene in one of the buildings; the place was beautiful, in any case:
Dragonflies are all over Sangju. Dragonflies are my favourite insect, though I'm still loathe to touch them. Kwan Jang Nim's ten year old daughter chased me with a dragonfly she caught after Hapkido once. It was scary, and it didn't help that she's a black belt and unbelievably acrobatic, if her aerial cartwheels are anything to go by.
The Taepyeongru is a pretty tower.
View of Sangju from the second storey of Taepyeongru.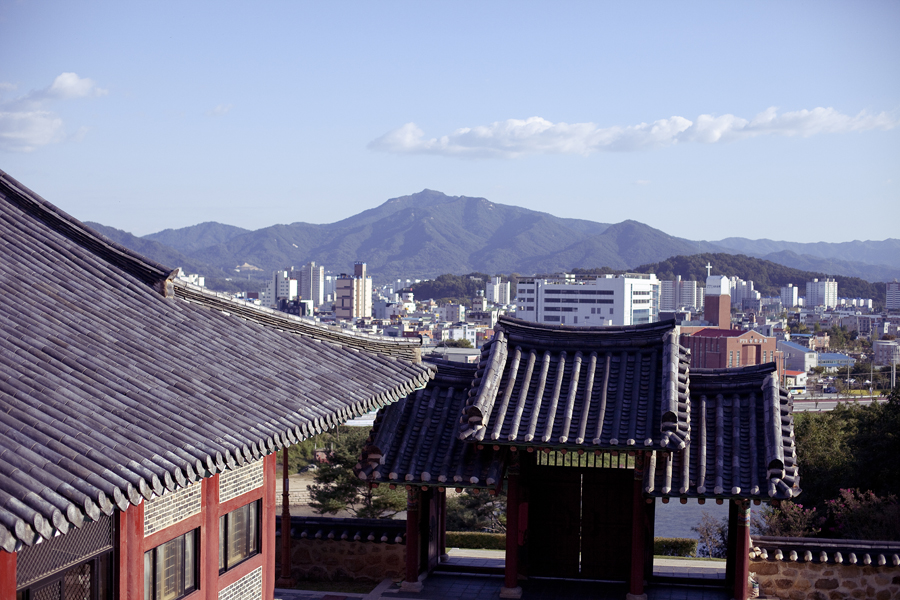 There's a small museum in one of the buildings showing authentic weapons and texts from the battle.
UO lace top + high-low skirt from a store in Gumi + Dr. Martens boots + La Marelle necklace (gifted)
And here's what I wore. It was enjoyable having that much free time and having next to no one- save for an old man taking an afternoon walk- in the vicinity while I set up my tripod. The scenery was so calm and pretty, what with the mountains in the background and sparkling waters all around.
I'm not too sure what inspired me to don every pink item I possess. Perhaps I was trying to see if I'd survive the onslaught? For however much I use the colour, pink has never been a hot favourite of mine, although I do acknowledge that it shines when it's the right tone on the right item.
Finally, have some miscellaneous photos from my meanderings throughout the town of Sangju:
I loved the juxtaposition of incredibly aged houses against the newer apartment buildings that seem to be springing up around the fringes of the town. In fact, the apartment building here had the words "现代" on it, which means "modern".
I thoroughly enjoyed walking on these synthetic track lining some of the major streets in Sangju. I could probably bounce off these if I tried.
And another outfit. This time, I'd wandered down some really old-looking houses, into the overgrown foliage that spread throughout the alley. It's not in the picture, but there was a family of some pretty big spiders to my right, where a deserted lot stood. It could account for the way my hands were curled in to contain my flight response should one of them deem me an interesting subject to study in closer detail.
F21 top & skirt + Dr. Martens boots + T-shirt & Jeans bag