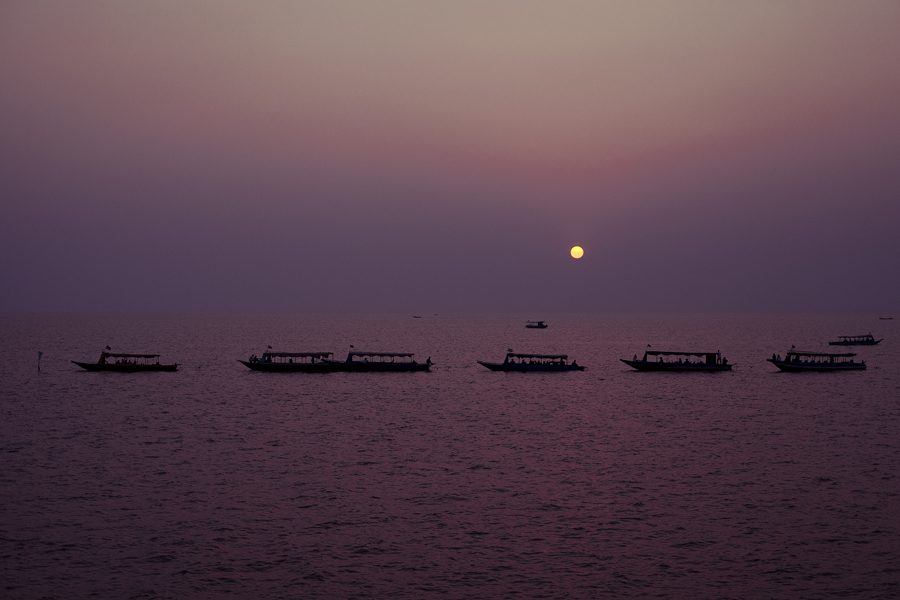 Chong Kneas Floating Village
Ant, Ottie, and I paid a visit to one of the famed floating villages in Siem Reap one evening. It was an adventure involving money, action, deceit, and romance across the great Tonl̩ Sap Рwell at least it was to me. A not-so-brief summary of this excursion:
Pay the entrance fee at the dock office before boarding a small boat consisting of a driver and a tour guide, just for the three of us. Guide asks if we are interested in visiting the school; we say yes. He also asks Ant if he wants to sit at the head of the boat, which Ant declines. I jump at the chance and eagerly take up the role of figurehead.

Boat brings us to a supply stop opposite the school, where we get coerced by both our guide and the shopkeeper to buy a small USD$20 bag of rice. End up paying USD$10 for two packs of bottled water after some 'we don't want to pay that much' negotiation. The money reportedly goes into both the school and community. Boat brings us to the common area of the school, in which little kids are running around. Deposit the water, and discover a donation box for the school. Also observe a tourist become popular by giving out lollipops that he had brought for the kids. Realise that Mr. Popular is a smart, smart guy. Explore the beautifully-decorated empty classrooms after feeling a tad betrayed.

Boat brings us to another platform, where an unfortunate crocodile enclosure filled with equal parts crocodile and litter exist. There is also a souvenir shop. Boat eventually ferries us to another platform to catch the sunset from a higher level. It is beautiful.

Guide asks us for a tip for him and our driver at the end of our trip, but we are tapped out from the unexpected donation. Our tuk-tuk waits for us, and we head back to the Lotus Lodge.
Ant later said that he was a little disappointed, because when he mentioned 'floating village' to our tuk-tuk driver, he expected us to end up at what he thought was the only, and highly-recommended, floating village that he had previously researched online (Kompong Phluk, I think). Alas, we had ended up at Chong Kneas Floating Village, the nearest floating village lying about 10 km from the city of Siem Reap. Nevertheless, I thoroughly enjoyed the sunset.
Ottie and Ant outside the classrooms.
Crocodile hides tanning against the setting sun.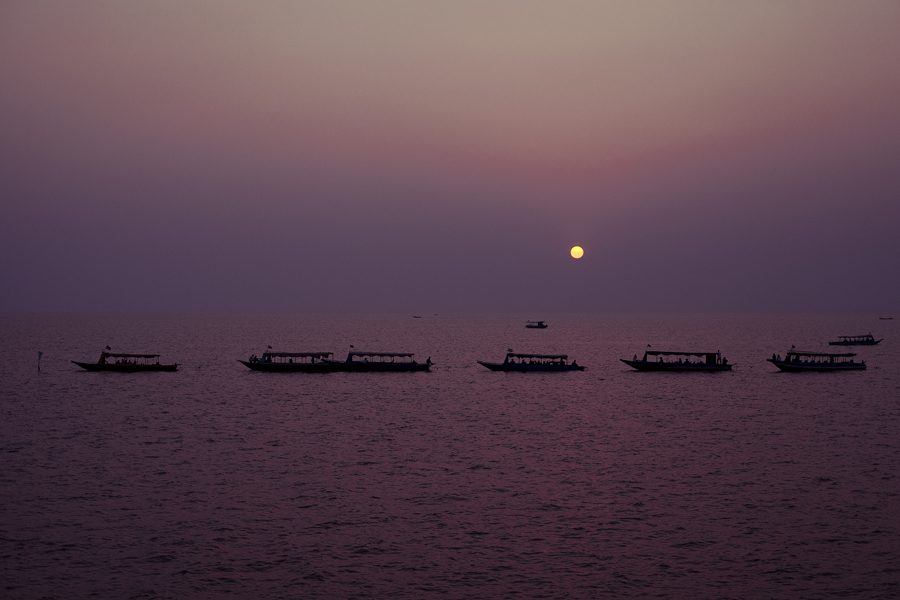 Watching our great big ball of gas fade into obscurity as day turned into night.
If you haven't already checked out my video compilations, my take on the floating village starts at the 3:35 mark here!